<! --/twrap -->
Liquid Products
Find the right packaging machine for your product
Which packaging matches your product?


Pillow Bag Packaging:
Pillow bags fall under the category of flat bags. They can be made either from a film tube or a film sheet. In the first manufacturing variant, a cut from the foil tube is used. One end of the tube is sealed before the bag is filled and the other end is sealed after the bag is filled.
However, the second production variant - from a film sheet - is more conventional and widespread. To form a bag from the flat film web, you need either a forming shoulder or a forming chute, depending on whether you want to subsequently pack the bags with a horizontal or vertical form-, fill- and seal machine.
With our pillow bags, you ensure excellent product presentation. In addition, the excellent barrier properties provide both product safety and flavor protection. Due to their unique film properties, our pillow bags can be processed very well and have a high puncture resistance as well as excellent sealing properties. Pillow bags can be used for a wide range of products and are considered particularly economical due to their low material usage. If you have special requirements for our pillow packs, we will be happy to adapt the bags or the respective machines to your individual needs. The packaging materials used for the pillow bags are mainly PP, PE and PET plastics or plastic composite films.
>>> Click on the bags to get more information about your desired bag type and the corresponding machines: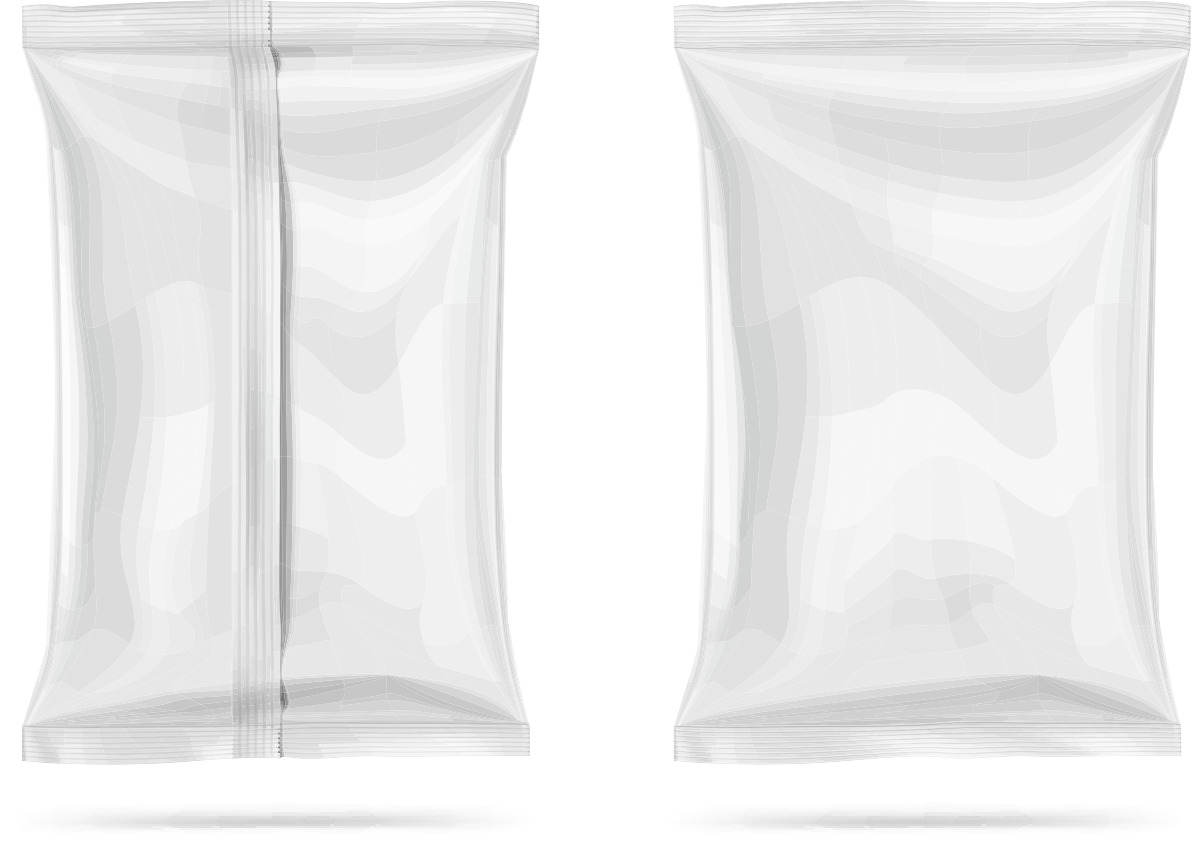 Stand-Up Bag Packaging:
As the name suggests, the stand-up pouch is a package that can stand on its own. It is also called doypack bag or stand-up bag. The stand-up pouch can be printed individually and thus represents a great presentation of your goods on the sales shelf. There are no limits to your design ideas here. To give potential customers a view of the goods, a transparent solution is also possible. Here, foodstuffs in particular can be optimally presented. As a manufacturer of stand-up pouches, we can respond to your individual wishes. Thus, we offer various closure systems such as zipper or pressure closure. We manufacture your packaging with different perforations, aroma protection valve or also with carrying handles - according to your individual requirements.
Stand-up pouches in kraft paper look are also particularly popular. The material has a good feel and a great appearance. These bags can also be printed in a variety of ways.
The stand-up pouches or doypack pouches are not only food-safe and aroma-safe but also odorless and tasteless. With us, you have the option of having the stand-up pouches printed or labeled according to your wishes or optionally equipped with a viewing window. Thanks to its properties, our stand-up pouch can be ideally sealed/processed, is versatile and can be stored and transported in a space-saving manner.
>>> Click on the bags to get more information about your desired bag type and the corresponding machines: